Vegan Potato Protein Isolate is a completely natural proteins extracted from organic potatoes and isolating them so that they can be used mixed with water to make meringue, macarons, mayonnaise, improved textures in cakes and much more.
This high protein (>95%) has virtually no calories, zero flavor and can be used in energy bars, cookies, and also in Vegan Meat analogues to increase protein. For uses see Recipes and Training Videos
PACKAGE SIZE
6 Bags of 60 Grams
EXAMPLE RECIPES
Below in the video section we provide you some sample recipes on how to use this product.
NOTE: Please note that due to the level of interest in this product that we do not provide private free training or consulting on the use of the product. We do however provide cooking course in person and online that teach the details of how to use the product.
For Vegan Cook and Chef Training IN PERSON or ONLINE please visit www.VeganGastronomy.com
KEY FEATURES
Extracted from non-genetically modified potatoes

Clean Label (no E-Ingredients)

No allergen labelling needed

Mercury Free

Fit for vegan and animal-friendly applications

Acceptable for Halal and Kosher

More sustainable than animal proteins
Potato proteins are more sustainable than animal proteins. In addition, potato proteins deliver excellent texturizing performance (solubility, emulsifying, foaming, gelation) and nutritional value (high in essential and branched chain amino acids). The Potato Protein has shown to be able to substitute high-value animal proteins like caseinate, whey protein isolate, gelatin, egg albumen and egg yolk.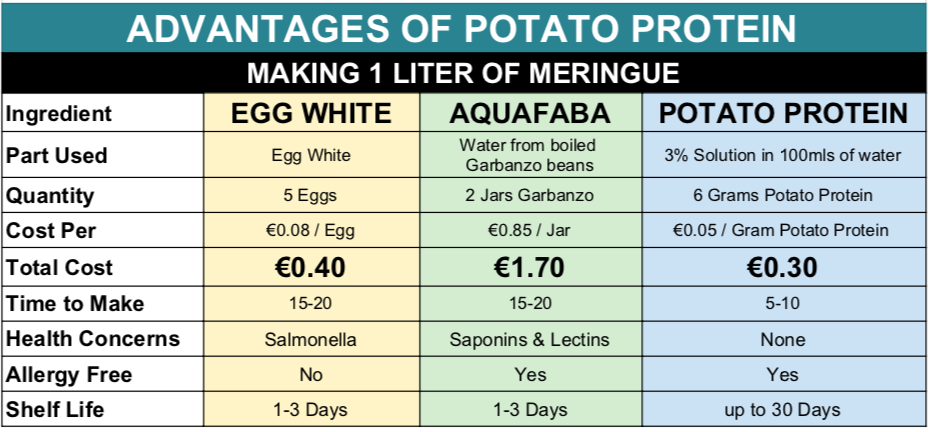 NUTRITIONAL INFORMATION

Calories

3.7 per gram
7 grams per Tablespoon
377 per 100 grams

Total Fat

0 grams

Saturated Fat

0 grams

Polyunsaturated Fat

0 grams

Monounsaturated Fat

0 grams

Trans Fat

0 mg

Cholesterol

0 mg

Sodium

3mg per Tablespoon

Potassium

0 mg

Total Carbs

0 grams

Dietary Fiber

0 grams

Sugars

0 grams

Protein

94 grams per 100 grams




94% Protein per serving

VITAMINS
Vitamin A

0%

Vitamin C

0%

Calcium

0%

Iron

0%
This product is awesome

This product is a great egg white replacer for macarons, I tried aquafaba but did not like the results and the taste was off. I baked several baches of macarons with potato protein and vegans and non vegans where impressed with the product.