Vegan Shea Oil is a Food-Grade product that is odorless and tasteless fat that is ideal for vegan and non-vegan culinary applications. Food-Grad Vegan Shea Oil is obtained from the seed of the Karite Tree (Butyrospermum Parkii) common to West Africa. This allergy-free* oil is ideal for replacing palm oil and coconut oil in vegan dishes.
It has 50% less saturated fat than coconut oil and has a higher melting point making it ideal for raw vegan cakes and cheeses. Shea contains one of the highest levels of Phytosterols which are known to reduce cholesterol levels.
NUTRITION
Click chart below to see nutrition info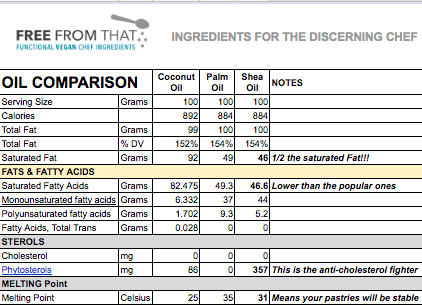 ABOUT SHEA
The shea kernel or fruit, not very well-known to most people, is only about two and a half centimeters in diameter. But what it lacks in size it makes up in oil concentration—and a unique history.
The shea tree is a wild tree growing in an area called "the shea belt" across Africa south of the Sahara. Countries with the highest population of shea trees, which are indigenous to Africa, include Benin, Burkina Faso, Ghana, Ivory Coast, Mali, and Togo.
A SUSTAINABLE CROP
Shea is a very sustainable crop, since the wild trees on which the shea kernels grow require no use of fertilizers or pesticides. The shea trees do not grow in plantations, partly because of the very long maturity period. However, the trees are allowed to grow in the crop fields in a farming system called agroforestry. This farming system has existed for centuries and has proven to be very sustainable.
FOR FOOD AND INCOME
Traditionally, it is the women who collect and process the shea kernels. The edible fruits fall from the trees in a period when there are nearly no crops being harvested, which makes shea an essential nutrition source. Part of the shea crop is also sold by the women. This provides an important source of income to the women's families. The women not only spend the money to alleviate poverty and hunger, they also invest in their children's education and other income-generating activities.
ALLERGY FREE
Since Shea comes from the fruit of a tree and is mostly closely related to a Brazil Nut it has been questioned if it is an allergen. The refined and descented Shea oil is 100% Fat and contains no proteins that causes nut allergies. The product is labeled as allergy-free but you should consult your medical doctor if you have concerns. It is similar to Soy Lecithin, or Soy Fat, and for those that have Soy Allergies, they are not allergic to Soy Lecithin.