See Scientific Report/Study on Potato Protein 100
Vegan Potato Protein Isolate 100 is the most complete plant based protein available for vegans. If you are transitioning from a conventional way of eating to plant based or vegan and are concerned about eating proper proteins for a complete amino acid complex, this is the product you can use to supplement your daily cuisine. Made from Potatoes this is an extract of the proteins that most closely match the amino acid profile of eggs, whey, pea, etc.
Simply take 2-3 teaspoons a day to supplement your meals.
For Vegan Cook and Chef Training IN PERSON or ONLINE please visit www.VeganGastronomy.com
For Vegan Potato Protein training - CLICK HERE
KEY FEATURES
Extracted from non-genetically modified potatoes

Clean Label (no E-Ingredients)

No allergen labelling needed

Mercury Free

Fit for vegan and animal-friendly applications

Acceptable for Halal and Kosher

More sustainable than animal proteins
Potato proteins are more sustainable than animal proteins. In addition, potato proteins deliver excellent texturizing performance (solubility, emulsifying, foaming, gelation) and nutritional value (high in essential and branched chain amino acids). The Potato Protein has shown to be able to substitute high-value animal proteins like caseinate, whey protein isolate, gelatin, egg albumen and egg yolk.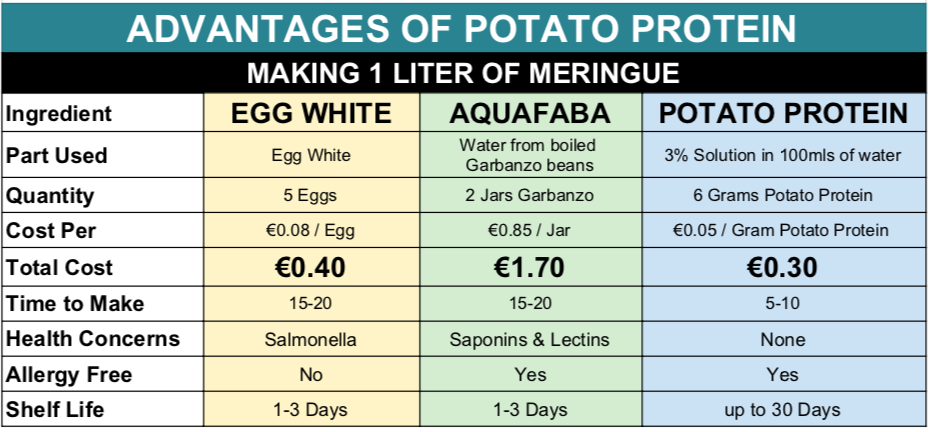 CONTAINER SIZE
100 Gram Personal use size
NUTRITIONAL INFORMATION

Calories

3.7 per gram
7 grams per Tablespoon
377 per 100 grams

Total Fat

0 grams

Saturated Fat

0 grams

Polyunsaturated Fat

0 grams

Monounsaturated Fat

0 grams

Trans Fat

0 mg

Cholesterol

0 mg

Sodium

3mg per Tablespoon

Potassium

0 mg

Total Carbs

0 grams

Dietary Fiber

0 grams

Sugars

0 grams

Protein

94 grams per 100 grams




94% Protein per serving

VITAMINS
Vitamin A

0%

Vitamin C

0%

Calcium

0%

Iron

0%